In Autumn 2019, Google invited a group of Google certified trainers and innovators from across the UK to begin preparations to attend the Google for Education stand at the annual BETT Show (British Educational Training and Technology Show) to be held at the Excel Arena, London.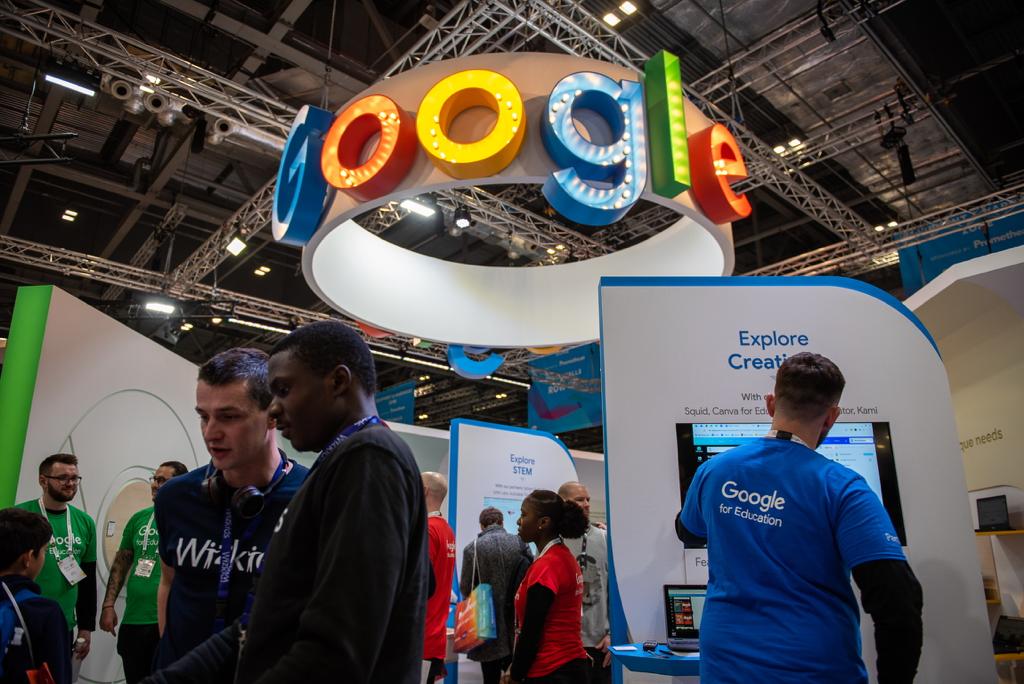 I was delighted therefore in January this year to attend, along with my colleague Beth, on behalf of Aspire 2Be, to support the launch of Google for Education's brand new Chromebook App Hub – a resource built for educators to enable collaboration and to discover apps for Chromebooks.
It was actually the first time I had made the annual pilgrimage but educators from all over the UK, Europe and the wider world have been enthralled since the first BETT held in January 1985. 
I am sure you are well aware that advances in technology since 1985 are nothing short of astronomical and this year's show proved the pace of these improvements has not slowed at all and there continues to be huge developments.
Over 34,000 educators and leaders from the UK and overseas engaged with over 800 EdTech providers, SMEs and start-ups who were all at BETT to demo, launch and promote incredible quantities of hardware and software.
I would like to say I took my time and went around the 2 massive conference halls, learning all about the emerging technologies myself, in reality this just simply wasn't possible! I wanted to spend every minute 'on duty' for Google. I admit my feet were aching by the time we wrapped up the week but I can genuinely say it was an incredibly enjoyable few days. To meet up with educators, fellow learning technologists, pupils, parents, guardians and even company owners was such a rewarding opportunity.

The Google stand was split up into, what I referred to throughout the week, as 'islands'. Each of the islands represented one of Google's various App Hub categories: Accessibility, STEM, Digital Assessment & Instruction, Admin, Multimedia Creation and the island I co-hosted with Emma, a certified innovator from Colorado; Creativity. 
During the week, Emma and I showcased Book Creator, Canva, Kami and Squid – four unique, creativity rich tools that are now part of a group of original members of the Chromebook App Hub, which in time I am sure, will expand. 
After discussion at our Google stand 'island' visitors were enthused into experimenting and we shared innovative practice using Chromebooks.
In addition to working in partnership with Emma, I also had the chance to meet and co-present with creators and staff from each of the third party Apps. 
Book Creator's Will and Chavonne spent a session with us each day, highlighting how Book Creator's functionality had grown to even greater heights in recent years. My personal favourite tool in Book Creator; Auto Draw, proved to be a huge hit, especially for those artistically challenged like me but the biggest impact during the week, particularly for me with my passion for effective use of tech to support additional learning needs, was Book Creator's announcement that they had made over 230 accessibility improvements. 
With over 400 million designs created since its launch in 2012, the team of staff from Canva, who had travelled from Australia for BETT,  were kept busy throughout the week as they had  launched their Education portal which, for Educators, is just simply incredible. The intuitive, drag-and-drop tools of Canva are now offered in a super-charged version of Canva, completely free of charge. Jam-packed with value and time-saving features (plus millions of free images), every user of Canva for Education gets hundreds of pounds of value free. By simply registering your class, you can unlock the best teaching tools Canva has to offer – from classroom collaboration to folders that help you stay organised. 
Last Christmas I was introduced to a new tool: Squid, which has become a game changer for me.  Whilst working on my Chromebook the functionality now offered has been revolutionary. My digital handwritten notes are now created far more aesthetically to say the least!

Creators and Founders Andrew & David, along with Christina and Karen co-presented with us on how you integrate Squid with Google Drive and Google Classroom, how you import PDFs, worksheets and assignments to write on, export back as modified PDFs and then even turn back in to Classroom. Schools no longer have to choose between Chromebooks or tablets — typing or handwriting. The latest generation of Chromebooks are capable of pen input and run Android apps. It's like they were designed for Squid.

Finally Kami. The New Zealand based team from Kami were, unfortunately, not able to attend BETT themselves but having experienced the full scope of its functionality it has added another new string to my bow and I highly recommend you have a look at it. We demonstrated the tool that helps users transition to paperless work. It was great to hear how Kami has already changed the way that teachers and students interact in the classroom and some visitors mentioned they were already embracing Kami. 
Following the Chromebook App Hub's launch, we've witnessed the incredible opportunities for these apps to have a positive impact on teaching and learning. 
To coincide with the launch of Aspire 2Be's brand new AspirEd learning platform, we've populated tutorials, quizzes and have a go assignments for some of the apps mentioned above, along with 3 multimedia apps which Beth showcased on her 'island' at BETT, and created the brand new Creativity in Chrome online course.

In summary, I highly recommend you get enrolled, find sparks of inspiration that work for you, your classroom, and your whole school. Get the most out of technology with apps that support not only lessons, classroom projects & activities but also promote student growth, family engagement and more.