COVID-19 has managed to bring the world somewhat to a halt during 2020. I think I've heard the term 'unprecedented' at least 3 times a day. For Assistive Tech, it may have been the line in the sand that was needed.
For lifelong friends of mine, Sara & Lee, the global pandemic has been a period of time spent juggling hectic work commitments whilst homeschooling 3 young children.  A new challenge that they, like millions of other parents, never imagined they'd have to embark on prior to 2020. Understandably, home schooling has been a challenge for every parent, I can certainly relate to it, but their eldest son Lucas, identified as having non-verbal autism, is a pupil at the
Special Needs Unit
at Myrddin Community Primary School, where for the last 5 years, he has received specialist support from staff on a daily basis, enabling him to access his personalised curriculum.
With the prospect of a 'lockdown' looming in late March and the thought of being at home everyday for days, weeks or even months, discussions took place with school staff over how to not only continue to be the excellent supportive family they are, but to ensure Lucas' education continued to progress. It was inevitable that Lucas was going to have his daily life transformed, but at the time, nobody would have predicted that, through the integration of Assistive Tech, it would be transformed in such a good way.
Assistive Technology can be identified as; products, equipment, and systems that enhance learning, working and daily living for individuals identified as having difficulties and/or disabilities.
When Lucas' family were introduced to Proloquo2Go about 6 months ago, they weren't aware of what it was or how it would help them over the coming months. Previously, Lucas used Picture Exchange Communication System (PECS) to communicate but following the introduction of the award-winning symbol-supported communication app, called Proloquo2Go, Lucas' communication skills have improved dramatically. Designed to promote growth in communication skills and foster language development through research-based vocabularies, the app is one of few AAC (Augmentative and Alternative Communication) apps which provides support for all users, from beginners to advanced communicators, while catering for a wide range of fine-motor, visual and cognitive skills.
"He's flying with it! He is non-verbal autistic but is getting more and more words since using this! It is honestly incredible and we are so grateful for it! It has helped us as a family no end! When he is unwell he can tell us what's wrong which is amazing as for years he would just be screaming or have violent/aggressive behaviour to try and tell us but since being able to communicate with us, via the App, his frustrations and behaviours have calmed down a lot!" -Sara, Lucas' Mum
It was a Facebook post that raised my awareness of Lucas' new use of this Assistive Tech. Sara and Lee's anxieties about his return to school were relieved almost immediately as on the morning of his return, he'd used the App to speed up his mum's morning routine, almost bringing an element of humour into the stresses of transferring back into the school routine as he'd mapped out the words, "I want to go to school".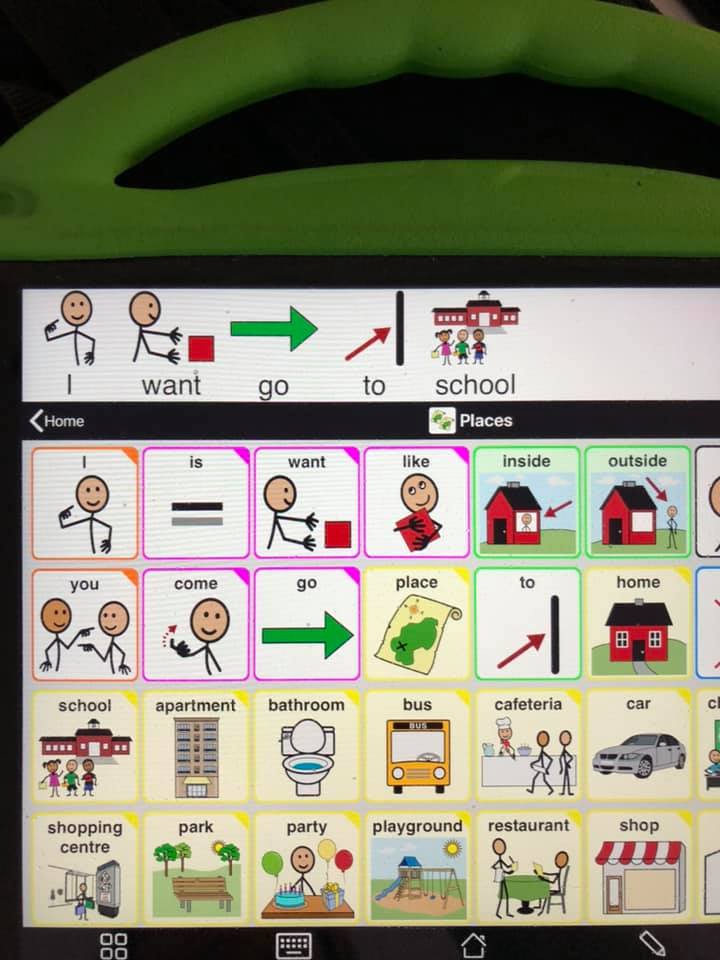 The daily use of Assistive Tech has positively transformed the communications between Lucas and his family. Pupils with Additional Learning Needs and the effective use of technology to support learners has always been a passion of mine, I've been wanting to be able to support educators, parents, guardians and anybody else who supports individuals with learning needs, with suggestions and guidance on how to access assistive technology.
My response to this has been two-fold. Firstly, I have developed a brand new online course, focusing on all the Accessibility features that are built in to every iPad to support a wide range of learning needs. The course is free to anyone who signs up to Aspire 2Be's online learning platform. 
Secondly, as part of my involvement in the Google Innovator Program, I am in the process of developing the IncludEdu website, the purpose of which is to help education practitioners make decisions about how they can personalise a learner's experience through the integration of Assistive Technology into mainstream, small group or individual learning activities. Educators can, following the identification of a specific or additional need, select relevant Assistive Technology solutions to support, promote and enhance learning. For more information and to track progress on this, please visit the Twitter feed, @IncludEduOnline